As I've reflected on this past year, our students' paths to progress have reminded me of the approach to the world famous hike, Angels Landing, in Zion National Park. It's called Walter's Wiggles.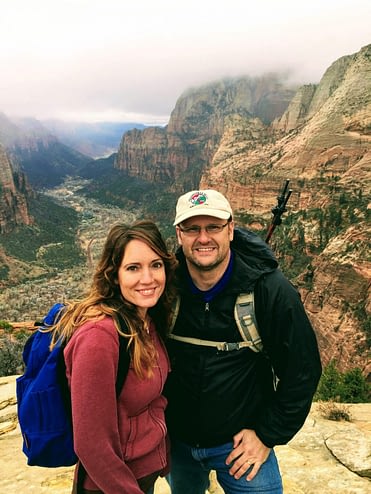 Going straight up the clifflike approach to Angels landing would be treacherous and intense. Personal safety equipment including ropes and harnesses would be required even for highly experienced hikers, and even then, ascension would be exhausting. So, in order to help all hikers safely reach the top on their own, the park service cut Walter's Wiggles into the mountainside.

This series of 15 switchbacks corrects and re-corrects hikers' lateral direction back and forth across the cliffside in order to maintain a manageable grade and ultimately bring them to their vertical destination. It's a slow and steady way to hike, but it eliminates dangerous falls and helps hikers get to the top safely without mountaineering know-how.

This is what TFL has consistently offered our students over the last year: accommodation and direction.
We have broken down the intense climb of reaching independence, and multiplied it into many smaller, more manageable paths. Each time your students' paths changed direction this year, they rose a little higher up the mountain. Kudos to them! Great work!

This new year marks another switchback, one of refocusing.
Letting life, emotions, and other external circumstances direct their choices and habits has been a common and painful pattern for our students. They often find themselves choosing the path of least resistance and having fewer opportunities as a result. Eventually they get stuck, and some sort of intervention is needed. For many of them, that process was a key factor in your decision to help them find independence at TechieForLife. For us, that's why we make consistent adjustments to our individualized approaches. The big adjustment this year is living on purpose.

Consistently and purposefully choosing what they will accomplish in a day, how they will grow, and what habits they will form is a key part of success for our students and a requirement for independent living.
To help them reach that milestone, we're introducing the following:

Morning Connections
Schedule Improvements
Monthly Themes
Enhanced Mentoring
Revised Electronics Policy
We are excited about 2019! We look forward to hiking up more switchbacks this year as our students press towards greater heights. The best part of Angels Landing is getting to the top. We're confident that our students will discover the same thing about reaching independence.

-Cam Sherman, TFL Program Director