During the first weekend in May, TFL had the opportunity to volunteer at an animal shelter called Best Friends Animal Sanctuary.
This is a place that has a no kill policy and is responsible for over a thousand animals, including horses, pigs, birds, rabbits, dogs and cats.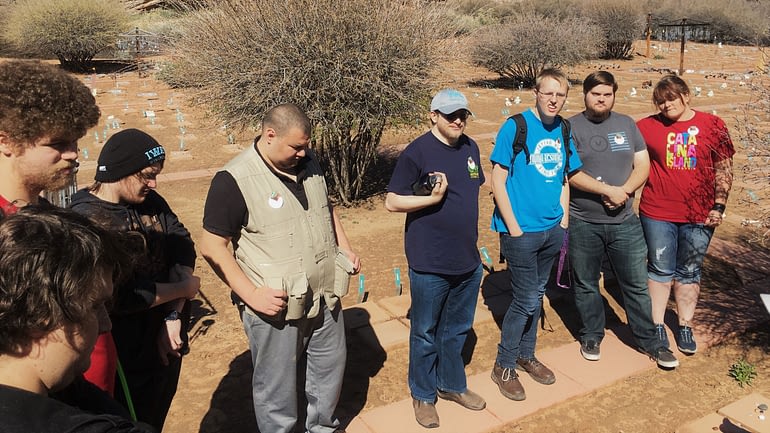 We got to help in the sanctuary's animal graveyard, called Angels Rest, and even got to participate in the burial of a rooster that had passed on from old age.
It was an interesting ceremony.
Afterwards, we helped in the dog section of the sanctuary.
There at Dog Town, we weeded a few sections of the place where the dogs live and then we got to play with a couple of them.
The next day we got to clean the cat houses and then more weeding of Dog Town.
I really enjoyed the experience but a couple of the students weren't so enthusiastic about it. Eh, maybe next time, right?
—Lee, TFL Student
This is a shout out to our students.

This past week I had the opportunity to go with Jason and the students to volunteer at Best Friends sanctuary in Kanab.

While there we were asked to weed and level off some of the dog runs.

Everyone was working hard in the hot sun and it wasn't long before we called it and the care takers brought out some dogs for us to interact with.

It was then I noticed that Eric and Joseph weren't with the group yet.

It turns out they were bound and determined to finish off all the weeds in their run, which they did!

Instead of stopping then and there they continued to work and give, which I thought was amazing.

And this was but one specific moment.

There are many times and moments like these with our students day in and day out that make our jobs as mentors worth it.

—Josh, TFL Mentor
While volunteering at Best Friends Animal Sanctuary, the students stayed at Jason's family cabin.
Some went mountain biking, many participated in target and skeet shooting, ziplining, swinging and of course everyone ate well.
We have a couple grill masters in our presence at TFL.
-Kristen, TFL Program Director